This post is a break to the visits of record stores. I met Bevan aka DJ Sheep during my stay in Brisbane in June 2011. We met at a weird gear session and we quickly hit it off. He then offered me to make a record collector, DJ and digger portrait at his place as follows ...
Xavier.
Can you introduce yourself?
DJ Sheep, born in Australia and raised in Brisbane. I do a lot of stuff, but in relation to this interview, I'm a full-time vinyl junkie, record dealer, worldwide traveller, photo journalist, turntablist, DJ and music enthusiast...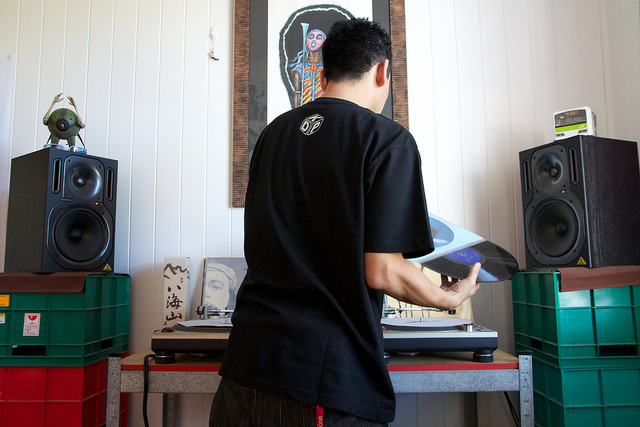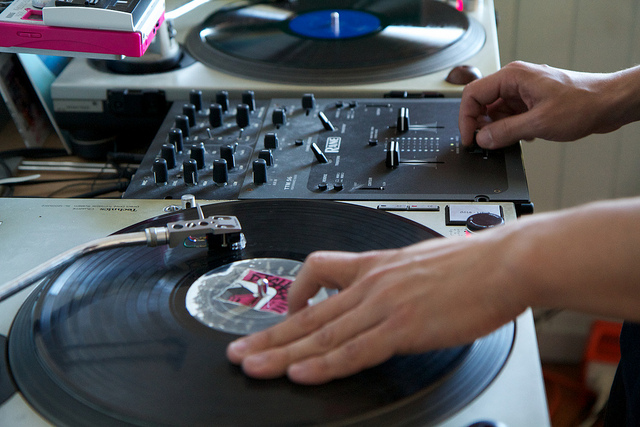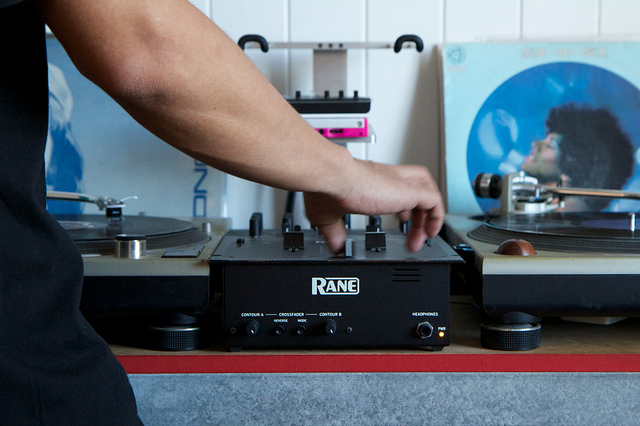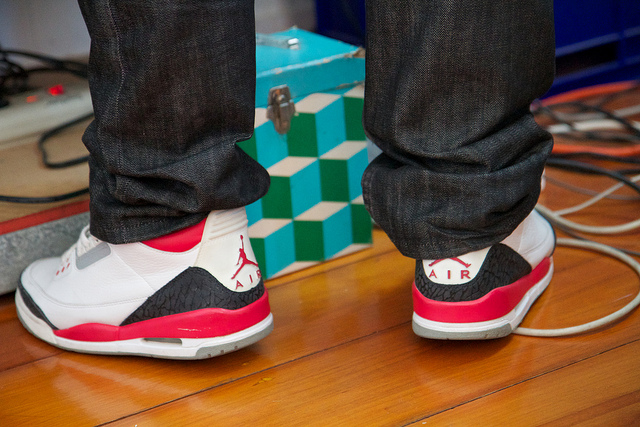 Vinyl only or CD too?
All of the above serve a purpose; I dig for records at least twice a week, I then record what I need to play in the club into my computer. I buy mix CDs from my favorite DJs and some gangsta rap and other music that is unavailable on vinyl. If it's on vinyl, that's always my first preference.
Why is vinyl your preference?
The whole aesthetic of vinyl is second to none. Also, after listening to songs that I don't own on vinyl on MP3, and then finally obtaining a copy on vinyl, I ALWAYS hear more depth and layers in the music. The physical format of vinyl is amazing, everything from the packaging, the artwork, the crackles and pops and also the actual physical process of playing a record are some of the reasons why I prefer it. At the end of the day it boils down to the fact that music sounds better on vinyl. The next format that sounds as warm would be cassettes.
What about digital media and MP3s?
I use Serato (a digital DJing interface) when DJing, especially when travelling, for convenience; after 15 years of hauling crates of records to and from clubs, I think I deserve a break, as my back is about to break! When Serato was released, whilst hesitant, I embraced it. However, compared to vinyl, digital media sounds like utter shit: unless it's a lossless AIFF or WAV file... MP3s are pretty crap. A positive aspect of Serato is that I have a short attention span, and it's helped me conquer running out of music to play and also offered a lot more versatility to my sets.
Tell us about the evolution of your tastes and interests in music.
My tastes have broadened a lot. What started off as a fascination with 80s hip-hop and electro, soon turned into 70's soul, funk and jazz. Then it was progressive rock, then disco, now i'm leaning towards early electronic stuff, new wave, post punk, obscure ethnic music, easy listening, avant, etc. I'll always have a strong interest in music from Australia, Japan and Eastern Europe, as those are places I've travelled to multiple times and try to learn more every time I visit.
At the end of the day there's only 2 types of music - Good and bad. But it's also in the ears of the beholder. One mans trash is another mans treasure. So I guess all music has meaning to someone out there. If not the public, then the person who originally recorded it, they must have a sense of connection to it.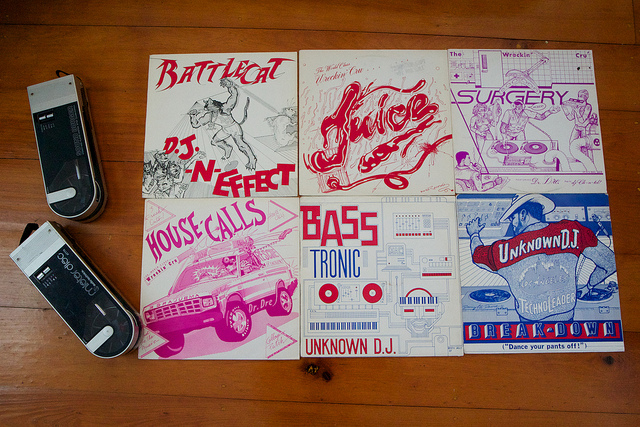 What kind of instruments moves you?
I love the Fender Rhodes and Vibraphone. Especially when listening on vinyl, the sounds of those instruments are so warm and appealing to me... I also like a little bit of fuzz, such as San Ul Lim from Korea. Moogs, Clavinets and other Synths when played in the right way can be straight amazing... Oh, I also like me a good drumbreak!
What are you listening to right now?
Phill Most Chill – All Cuts Recorded Raw LP and before that I was listening to DJ XXXL Nippon Breaks & Beats – Volume 4 CD.
When did you start collecting records?
When I was in high school, there used to be this radio station once a month at lunchtime, these two guys would set up a DJ console and play songs over the schools loudspeakers. One time they asked students to bring in a record if we wanted a lesson. The guys just showed us how to do basic radio cueing. Like winding the record half a spin back, then pressing the start button, and how to fade it in.
I started collecting music since I was about 11 or 12 years old. But I was recording stuff from the radio earlier than that. I was collecting tapes first, and then it was CDs and bits and pieces of vinyl here and there for the bands I was fanatical about (Run DMC, N.W.A. and Public Enemy, for example)... I didn't start collecting anything but hip-hop and electro until the late 90's. I was sent a tape then by a guy called Soulman (Phill Most Chill) because I used to write for magazines and he sent it in for review, the tape was called World Of Beats – Volume 2, that tape always intrigued me, however I didn't really understand it... it was a tape with samples from some of my favorite hip-hop songs and some other soul, jazz and funk songs. I used to always carry it in my backpack and play it in my mates cars... Curiosity killed the cat and I wanted to figure out what those records were.
It all started happening when the ABC (radio station) in Brisbane sold their entire record collection over a year-long period in the city. Every hour or so, new records from their library would hit the shelf in a mock-up store in the CBD. It was myself and my man James and Kenny who started diggin' for things other than hip-hop then, the year 2000 was when it really started poppin' off. I had some good mentors; DJ Damage, Hams and Arks, who showed me basic things like Ramsey Lewis, CTI Records, Prestige, Curtis Mayfield, Bob James, John Klemmer, Roy Ayers, etc.... and then diggin' turned into a monster which I really can't control anymore. I'm still hunting records off that World Of Beats 2 tape, that really set the blueprint for my digging excavation and musical excursion. Thank you Soulman. You changed my life, not Dilla!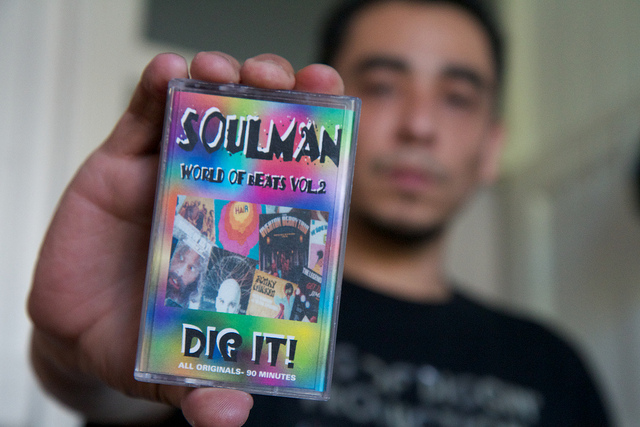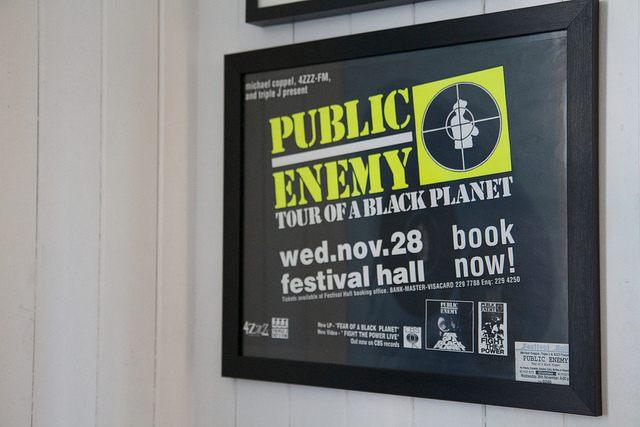 What's your theme or method for collecting?
At the moment, I'm trying to complete my wants list from Australia and Japan, it's a never ending mission. I'm typing this interview from Japan and I just discovered the most amazing record to add to the wants list. It's a group of Monks who play music over David Axelrod's Holy Thursday. It will just never end. As soon as I think I'm reaching my goal, there's another 20 records added to the list. I don't keep a physical list, it's all in the head for safety reasons! If I had it written down, I'd probably end up buying it all online and break the bank! As far as years. I used to look from 1969-1979. Now I just use my ears. There's some wild shit on folk, easy listening, and other unsuspecting genres, and also on 80's records... definitely more about intuition these days. Using your ears helps you stop being a textbook, trophy collector. Buy what moves you, not what some big name DJ plays or what you read on the Internet. The 90's wall-of-fame is good, but some of those $500+ records REALLY suck musically, or are just one trackers!
Is there a particular way you file your records, and where do you store them?
It's a little too in depth to type out. Firstly, by countries I've spent time in, for example, I have a Russian section, an Australian section, a Japanese section. Then with hip-hop, certain artists or labels I have made sections for, for example Native Tongues or D.I.T.C. The same with jazz labels like Blue Note, MPS, ECM, etc. I also file discographies for soul and funk artists for which I have more than say 5 records for. I think I have something like 120 sections. It's all a little too much, especially when things could be filed in more than one section, it makes it hard to find sometimes, even with such a meticulous regime of sorting it all out into categories!
I store my collection in my house, in the expedits, the best thing Ikea ever made. I use strictly Japanese 45 and LP sleeves, and dividers I got from Rocking Horse Records for LPs and dividers for 45s from Disk Union in Japan.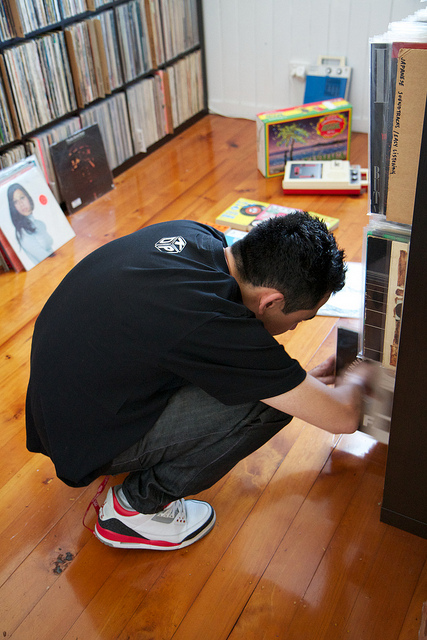 What was the first record you bought, and the last one?
The first was Jazzy Jeff & The Fresh Prince – Parent's Just Don't Understand 12. I bought it to use at that DJ workshop at my school. I still have it. I bought it at Brash's record store at Garden City shopping centre in Mt. Gravatt. I still remember that day. It was a odd feeling carrying home this big bag as opposed to being able to put a cassette in my backpack. That record is special because the B-side has the track Live At Union Square which was the first record to have the transformer scratch recorded, in 1987. In a way that must have got into my mental and somehow made me want to scratch and DJ one day.
The last record I bought was the Col Nolan Soul Syndicate For Whatever It's Worth LP, A record I had been after for a very long time.... And to be honest, I actually caved in and paid the price on it instead of looking for it in the field, as the last decade of hunting has proved fruitless... it didn't disappoint, has a real dusted and smokey version of Ode For Billy Joe on there... and it was only ever issued to Australian radio stations, which makes it extremely hard to find...
What do your ears look for when you listen to a record for the first time?
Something that grabs my attention that I can see myself playing more than once. Something unique. Something worth the price. Something that doesn't sound like anything else in my collection.
Are you also an audiophile? Can you describe and show us your sound system?
It's funny, me and my friend Arks were having this conversation a while ago, how we'll end up being audiophiles, however I don't think I'll get obsessed with it, I would like to own a nice turntable and amp with good speakers one day. But at the moment, my setup consists of a pair of studio monitors, a Rane TTM-56 mixer and 2 x Technics SL-1200 turntables and an Apogee Duet soundcard. Simple and to the point. Regarding needles and stylus, I use the Shure M44-7 for it's deep bass and ability to sit in the groove. I'd say in 5-10 years I might invest in a system more for listening, however I'm still active as a DJ, so my setup is ideal for what I do.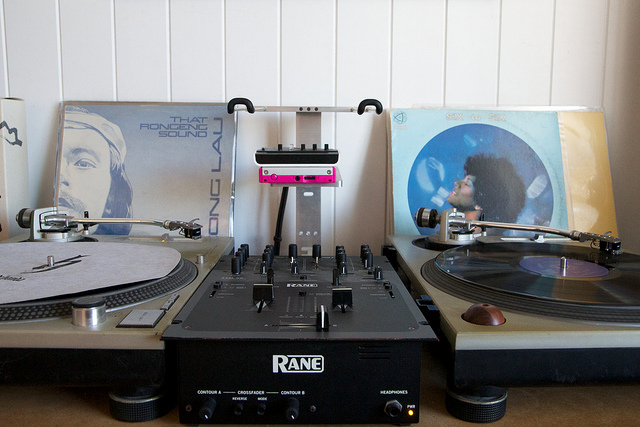 What would you recommend for record cleaning?
Easy answer. Buy a VPI 16.5 record cleaning machine. It seriously changed my life. I used to use alcohol and sit there and clean my records with a cloth. If you sell records, you should invest in one definitely, and if you collection is sitting somewhere near the 1,000 mark, it's a worthwhile investment. It doesn't work wonders and fix every crackle, but it does make the music crisper and more defined for sure. You spend all this money on records; so it makes sense to clean them professionally. The gunk that comes out the other end of the machine is so dirty. It's sickening to think all that crap is sitting on the platter of your wax! Dust, mold, hair, grime, cigarette smoke, and other nasty unmentionable things probably!
According to you, what is the best way to limit the effect of time on records?
Throw away those thick clear plastic sleeves. They are the cause whitening of records, or as it's been nicknamed the cancer. The oils in those sleeves react with vinyl and over time causes whitening of the record and surface noise. Also store your sealed records tight otherwise they will warp. Or maybe just open sealed records, they'll eventually warp anyhow. Never store records stacked on top of each other, as they will warp too! Keep it tidy, a messy record collection is not functional. Or maybe it's just that I have record O.C.D. like the other half of the record collecting population!
Favorite records in your collection?
I like listening to Tuff Crew, their first 3 albums are so great to me. Same with Low Profile's album. It depends on the mood I'm in, usually at home, because I DJ at the club so often, I like to listen to stuff that I couldn't necessarily play out, usually chilled out mellow stuff, jazz, mellow soul... but I also get into phases where I want to listen to prog or psych rock, etc. One of my favorite records of all time is Steve Parks Still Thinking of You and also the Darling Dears 45...
...And records that you love and recommend to the readers?
Yarandoo is a favorite album of mine. A 70's private press progressive jazz/rock album from Canberra, Australia. I discovered it a long time ago, before the hype and before the inflated price tag it demands today. There were only 100 pressed. Big shout outs to Rob Thomsett for making such a masterpiece, I was in touch with him shortly after I discovered the album and he sent me a nice little package of goodies.
I also love my basic hip-hop staples, groups like Tuff Crew, Low Profile, EPMD, N.W.A., Run DMC, Public Enemy, Big Daddy Kane, and things like the Ultimate Breaks & Beats series... all those songs are classics! Rarity doesn't come into play. There are trophy collectors, then there are music lovers that enjoy having trophy pieces because of sentimental reasons in a sense. I would put myself in the latter category.
There are some records you can get in the field for around $10 that sound better than these $500-$1000 holy grail joints. Groups like Steely Dan, Ohio Players, Parliament, for example. Nothing irks me more than these guys who just collect rare records citing quality over quantity. That's just utter bullshit, it's more like I dig from a textbook and whatever I read is a rare record must be good music. Use your ears people! I have a bunch of holy grail joints, but then again, I have the basic records too, I'd probably be more inclined to sell the bigger pieces in most cases than the staples. Don't get me wrong, I love myself a rare record (check out the photos in this interview for example), but there's more to music than rarity and $ value. End of rant, hahaha...
Can you name one of your favorite tracks in your collection ?
Terry Callier – Dancing Girl, that song is beautiful...
Can you recall a time when a song really moved someone in a unique or special way?
When my homie J-Zone played Willie D I Need Pussy on national radio (JJJ) in Australia, that kinda made a lot of people upset! It probably broke a feminist heart and mended a broken dude's heart! Hahaha... What up to J-Zone, one of the most unique producers on the planet and a gangsta rap connoisseur.
Weirdest records you have in your collection?
A Chinese record with a cow mooing on it with a huge drum break I found in Taiwan. I don't know, it's weird, you'd just have to hear it... that's the first thing that sprung to mind, however there's so much weird stuff here in the crates, you'd just have to pay me a visit and check it out. I'm not near my collection, so my memory is drawing blanks at the moment. Sorry.
What's the best bargain you've scored in a record store?
Nico Gomez – Ritual. It was 50 cents, and it was bought for me by my girl to piss me off at the time because I told her not to buy any records for me, and she ended up buying me one of my most wanted records! A simply amazing gift from the diggin' gods!
Sexiest or filthiest records you have in your collection?
I got this series of records on this label called Audio Stag, it's just some perverted sex stories, they are kinda crazy! I just bought this book called Best of Erotic Jacket in Japan, there's some seriously crazy Gangsta rap porno CD, LP and cassette covers in there!
Cheapest records you would never get rid of?
The records I started DJing with, such as my doubles of T La Rock This Beat Kicks which was given to me by my DJ mentor DJ Bribe / Angus, as well as the copy of Johnny Guitar Watson A Real Mutha For Ya he gave me. Rest in peace Angus.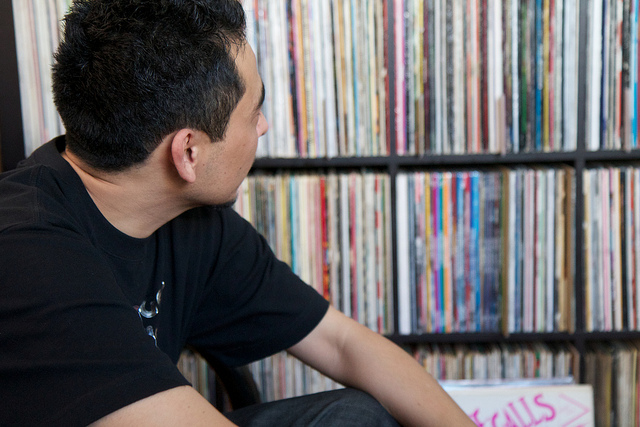 Any embarrassing records in your collection? Are there any records that you are obsessed about collecting?
I like Nirvana, is that embarrassing? Nevermind is one of my favorite albums. I know hip-hop purists would be in disgust... hahaha... I also like my cheese, more from a humorous perspective. I'm sure there's something in there really embarrassing, but it's just not coming to mind at the moment. People laugh at some of my gangsta rap collection, but that stuff is sentimental to me... There's some horrible Australian hip-hop I've been given as promo that I should throw away, that's for sure, absolute crap. As far as guilty pleasures... Hair Soundtracks, Moog Records, cover versions of Spinning Wheel, Soulful Strut, PYHITH, Get Out My Life Woman, etc. I can never pass those up! I've also started becoming a little obsessed with Japanese OBI's, so there we have another beast that needs to be tamed. The price difference in a record with an OBI and without can be up to $200!
Records with horrible or unsuspecting covers, that contain amazing musical content?
Chinese records! European records. Ethnic records. Stuff like Nico Gomez. You really need to listen to everything and anything. There's this Okinawan folk music record I got today with this HUGE drum break on it, if you saw the cover, you'd just be like... pffft... looks horrible. It's got a boat on it, it's all pastel... I listen to anything and everything I've never seen before. That's the best way to go about diggin'... keep a photographic memory and just listen to anything you haven't before, then sometimes go back and relisten to things you thought were ok at the time, but not purchasable, because your tastes will always evolve...
Who do you think has the most impressive record collection in this crazy world of vinyl?
I haven't seen it in the flesh, but it's gotta be either DJ Shadow, Biz Markie or Cut Chemist, those guys have serious records. Also people like Jazzy Jay and Afrika Bambaata... they must have crazy records, they started this shit! In my experience though my mate Bruce Highway has one of the most diverse record collections, he really was the first guy to put me up onto ethnic stuff and weird things from Europe and electronic stuff, etc. He gave me some great records when I first started diggin'... Also my mate DJ Damage he holds a nice tidy collection and diggin' through his crates really helped me learn about music.
And weirdest record collectors?
...Biz Markie, without a doubt! I spent a bit of time with him recently, and he's a character to say the least.
Anything else you collect?
Sneakers, toys, books, VHS tapes, movies, rap cassettes, music memorabilia, fliers, posters, portable turntables, etc.
About diggingTell us about your best memories as a record digger?
Oh, there's so many. I would say the early years were the best. The times when you would buy any old record and then go home and get excited over the littlest 2 second sample. Also finding things like your first David Axelrod record in the field, or Bob James One... Another interesting experience was Russia, it was new territory to me, and discovering new music was such a rush sitting in a basement full of vinyl underneath a park for a week, day in, day out, just finding weird and wonderful things which certain producers such as Gaslamp Killer and Stones Throw Records in Los Angeles bootlegged. That really pissed me off.
I also would have to say living in Japan during the glory years in the early 2000's when stores were really pumping out records constantly, it was amazing. It was also pre-Internet, so prices were reasonable and sometimes things such as Placebo records, Franco Micalizzi Violence Soundtrack, Demon Fuzz, etc. would slip through the crack and be found REALLY cheap. I discovered a lot of Japanese records and it was when a lot of dope hip-hop albums dropped, like Gang Starr, Ghostface, etc. So I was hunting down samples and stuff they'd used. I was also hustling records hard on eBay and basically started that whole Japanese funk drama break craze. It's funny, I named some of those records without knowing the real title, and certain sites and collectors still use those names I made up in my bedroom in Japan. Straight comedy. Crazy with the records, beats, all of that ;)...
Are you an internet shopper and/or still very active offline?
I actually rarely buy records on the Internet now, it's too dangerous to the bank account. I trade a lot, I do the occasional eBay or CDandLP purchase phase for a week or two from time-to-time, but I hit the flea markets, garage sales, second hand stores, basements, record stores and drive out to the boondocks to look for records at least twice a week, I've been known to go 7 days a week, non stop! Depends on my mood and how the stock levels are looking or more importantly how heavy the wallet feels ☺.
The best record store according to you is/was?
Rocking Horse Records! It's where it started for me, it hasn't shut yet, but there's a possibility that it will. It holds a special place for me as I've been shopping there since I was 12, it was always much more than a store, it was a institution and where I gained a lot of my music knowledge. This city will never be the same without it. It was where we all cut our teeth with music and bought our records in Brisbane city.
Also some of my favorite stores in Japan have shut; Disk Union in Kunitachi, Spice Records 1 and 2, Sounds of Blackness and Savage! In Shibuya, Rare in Asagaya, Disk Union Hip-Hop in Ochanomizu, man the list goes on... it's not the same out there as it was in the late-90's. There's still records... but there's also now memories of some really unique and crazy stores which people will never know about who go there now... The days of spending two days solely in Shibuya diggin', or going in there daily are well and truly over. Spice Records was definitely one of my favourite stores in Tokyo. R.I.P.
What is your routine when entering a record store?
Lately, I hit the soundtrack section first. That's always a good indicator to me, then the easy listening or world section, cuz shop staff put all kinds of weird and wonderful stuff in there like library records! I also put Leo Sayer and Kamahl records to the front of the crate when diggin', it's like marking territory to let people know I've been there before... I used to hit the jazz section and soul section, but you know, everyone hits that. I do that in the middle of the dig. I hit the rock section, the $1 bins before the soul section. And then I try find peoples stashes in the country section or classical section. You wouldn't believe the records I've found stashed in there.
Do you mainly dig solo, or do you sometimes share diggin' spots with friends and head out together?
Depends on who it is, there's some people you can dig with, some you can not. My favorite people to go diggin' with are Bruce Highway, Arks, Prop Greg and Matty Fresh. We keep out of each others way and are usually looking for different things and show each other good stuff. There are some real weird characters to go diggin' with that are either all up in your shit, asking too many questions, or just stand around in the store looking confused. It's like, everyone should be frantically diggin' or listening, not standing there wondering where to start! Sometimes I feel like diggin' solo too. There's something liberating about being in a record store taking your own pace and time in the crates.
Any unexpected places where you found records?
Some homeless dude on the streets of San Francisco with a shopping cart full of records pushing it around, lots of jazz, funk and soul... Also girlfriend's parent's collections sometimes have very interesting records ☺. There's also this shop up here on an island that sells nothing but stuffed dolls and records. It's quite bizarre, but an interesting experience!
Do you often regret one purchase? Is there one record you particularly regret not buying?
Diggers Regret, there's two ways it works. One, you don't buy a record then regret it. Two, you buy a record and regret it. It happens often! Maybe way too often!
There was this one record in Russia, there must have been at least 40 copies of it, I see it go for like $300+ sometimes, I thought about buying them all, but that would just be selfish, however, might have made some easy dough! I have a lot of records I regret not picking up when they were cheap before the Internet dictated prices, diggers regret is what we call it. As records start drying up, basic things such as CTI records will become harder to get, even your basic hip-hop records. Now is a great time to buy records as the digital age has made a lot of DJs sell their collections, so there's a lot out there to buy!
About CDandLP.comHow did you first discover CDandLP.com?
Through Google searches, the site would always come up when I was looking for records.
What is your main use for the site?
I usually use it to buy European Records, there's a lot of good dealers out in Europe with decent stuff at great prices! My mate Iain also has a lot of decent priced Japanese stuff on there right now so sometimes I get things from him through the site.
How often do you visit the site? How much time do you spend? What is your browsing routine?
I usually find sellers who have similar tastes as mine and browse their inventories, I always end up buying more than just the record I was originally after!
What aspects of the site do you like?
It's easy to use, and reliable... never had a problem purchasing with you guys.
What do you think should be the future of CDandLP.com?
Keep building it, but don't change too fast, possibly add some sort of social networking aspect or message forum to it...
What online Marketplace has changed on the record collector market?
It's definitely changed the game, it's like everytime I sell or trade a record, or buy an unpriced record, the shop staff hit popsike and look at the highest price and charge me that... without even taking into consideration pressing, quality, grading, etc.!! And then when they are buying off me, they always give me the lowest price! That's the downfall of the Internet and diggin'... there are some stores I refuse to go to because they only use popsike to price everything. It's silly, dealers and physical record stores need to start being a little smarter otherwise everyone will migrate towards the Internet. There needs to be an incentive to enter a store, because if it's cheaper or a similar price on the Internet, it's natural that people will start making their purchases there, especially since Australia has such a strong dollar at the moment.
For more information about DJ Sheep visit:
official site:
www.djsheep.com
facebook:
www.facebook.com/mobbsheep
tasman connection store:
www.djsheep.com/tasman
weird gear:
http://weirdgear.wordpress.com