Jaciel
, from the island of Cuba, leads us along the streets of Havana and its salsa rhythm...
Can you introduce yourself, what is your job in the shop?
Hello, my name is Jaciel Dehenis. I live in Cuba and I have been selling for some time on this great website that is CDandLP, run by an excellent team of people who have become friends of mine. In my every day life, I am a cabinetmaker and even if my profession has lost importance over time, there are still young people like me who like to refurbish this type of classic and old-style works. It is undoubtedly a great job, unique and artistic. I have always been a faithful worshiper of Cuban music. Feeling proud to know that it is considered unique and special in the entire world. It has many fans, and famous amongst dancers who love its fast and happy rhythm. I send my regards to the entire music community.
How did you get to own so many records?
I bought my first albums because I knew that the music of the past had gained some interest. In selling records, I saw a way to earn extra money. That's how I started buying from people who wanted to get rid of their private collection; some of them even donated their albums. Many other people threw away their collection simply because they did not see any interest in the records; they threw them in the garbage for the simple fact that they had become old-fashioned. Others kept them as souvenirs that had belonged to their grandparents. It was from that moment that I started to collect them. I started with a modest private collection that keeps growing even now. I remember that my wife used to read me aloud the titles and the pressing numbers of the albums I bought, helping me create my first lists; she assisted me a lot along my project; I take this opportunity to thank her a lot, for always supporting me in my projects and my ideas and I also thank my son who is my main source of inspiration.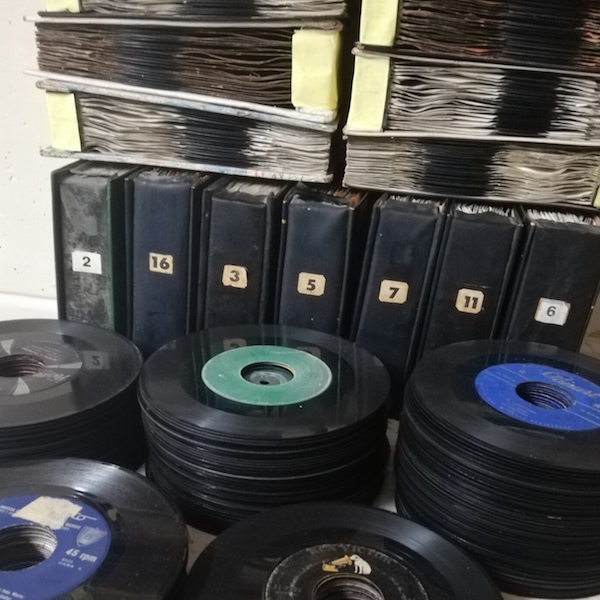 Give us a story as a seller:
Once, I was walking through Havana when I saw several boys gathered around a suitcase. They started playing a game that consisted in throwing vinyl records at each other, just as if they were on a beach, playing Frisbee! Just imagine my shock! I ran to them and gave some money to the boy who seemed to own the suitcase. I started to examine the records; my first impulse was to prevent them from breaking. In the boy's hand, I had seen a record that had caught all my attention; one record that had never been part of my collection so far. To make the long story short, that's how I got one of the rarest albums I've ever had in my hands: a
Matias Tabio
record released by Jaronu label with the song Vamos a la Pachanga in guaracha rhythm. I bought the single right away and I convinced the boy and his friends not to play with records anymore. I am proud to have saved this rare record from certain death. Otherwise, there was nothing much in the suitcase, only some records of little value. Later, I bought another album from Matias Tabio, but this album was not in danger, as was the first one, ha ha ha
Another time, I had agreed for an exchange of a very good album - the LP of Guapacha, label Fama - with an American collector born in Colombia ... When I arrived at the meeting point, I got the best surprise ever: the famous Cuban group
Buena Vista Social Club
was there also! I had the great pleasure of meeting
Eliades Ochoa
and
Omara Portuondo
, the Cuban diva, in person. At that time, I did not have a really high tech phone to take a nice picture but I would have loved to have a souvenir of my encounter with these great Cuban musicians.
What is the main musical genre in your shop?
I sell famous Cuban music like guaracha and montuno.
What about you, what's your favourite music genre?
I really like all the rhythms of my country, especially the 'son' (salsa in Cuban language). Among the Cuban old music, I really like the compositions of
Arsenio Rodríguez
(El Cieguito Maravilloso – "the marvelous short blind guy"),
Benny More
's music (El Bárbaro del Ritmo – the rhythm god),
Orlando Contreras
' boleros. As for contemporary music, I really like what Alexander Abreu and Habana Primera do and I am impressed at how
Chucho Valdés
plays the piano. Although this seems contradictory, I also like modern electronic music, but I prefer 'son' (salsa) above all.
How did you get to know us?
I wanted to sell my collection abroad and needed to start selling online. I did a Google search and luckily I found your site among others. I'm very happy with CDandLP and your work. With the support of my family and my acquaintances abroad, I managed to achieve my first sales quickly and easily.
What is it that you like most about CDandLP?
I like the transparency and honesty in the transactions. As a result, you get the confidence from both buyers and sellers. The information is clear and provided in a timely manner. The team is very attentive and professional with its members. The marketplace gives me a lot of visibility inside Europe and one of its main assets for me is that I can keep my balance as long as I want and ask for payment only when I need it.
What was your very first vinyl record?
There were several ones that I bought at a very good price; there was a bit of everything, but all of them were Cuban music. Some LPs, I remember, were of Russian classical music, records still sealed, which I later sold to a classical music dealer.
According to you, which record within your inventory is the most bizarre, unusual?
Without hesitation, the record by
Neno González, A caballo,
label Duarte. It is a very rare record, hard to get, I know that many collectors would like to have this record.
When did you start selling with CDandLP?
Approximately 2 years ago
Cuba, the island, its music… tell us a bit more about it!
Cuban music is for sure a reference in terms of musical genre. It has influenced dance and music in general. On the island of Cuba, you can see very old classic cars dubbed Almendrones rolling in the streets, almost new, something you will not see anywhere else in the world. You can savor one of the best rums of the world, the Havana Club, as well as the delicious Cuban mojito. You have access to beautiful beaches and if you venture to smoke our tobacco, the best in the world, you will see with your own eyes our beautiful island, like frozen by time. To visit Cuba is like taking a trip in the past. Cuban music, we live it, we feel it in our own flesh. It is so much pleasure to listen to the best dance rhythms, to move your hips to the sound of salsa, to begin to cha cha, to sway on a guaguancó or a rumba or a conga street music ... Cuban music is simply the best in the world.