La Face Cachée, independent record shop located in Metz, France, answers our questions:
Can you introduce yourself, what is your job in the shop?
My name is Flo, I have been working in the shop since 2010. I had been a former client of the shop since 2004. I'm in charge of several tasks in the shop. I deal with the on-line and the brick & mortar shop orders, pre orders, suppliers, customers, FaceBook marketing… I also help my wife with the management of two Labels named Specific Recordings and Specific Bis. Along with this, I also perform in various bands, I write articles for webzines, fanzines and I organize concerts in the town of Metz.
When did you start selling records?
I started in 2010.
What is your musical background? your musical approach?
I have quite a conventional musical background. In the 80s, my nanny's son started to share some records with me and I discovered what music meant. As soon as I was allowed some pocket money, I began to buy some records for myself. I've never stopped since then. At the age of 11/12, I started singing and playing the guitar in various groups. We recorded some songs and we toured several times. I created a label, published some records and started distributing them during concerts performed by my label's groups. In 1998, I got a work placement with Overcome Records in Rennes and with Burn Out in Reims in 2003. Without even noticing it, I have always evolved around music and records. Before working for the shop, I also worked in a factory, then in offices, in the field of archives. I was also a programmer and I ran a "café-concert" for 3 years. Working in a record shop was like a dream for me and I've been living this dream for 8 years now…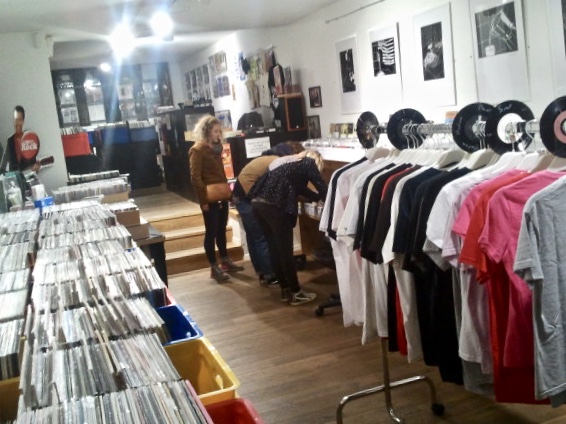 Give us a story as a seller:
I never actually have the presence of mind to take a picture with famous musicians who visit the shop. Therefore, nobody believes me when I tell that
Ghostface Killah
came to the shop and bought 7 inches of Soul by
Q-Sounds
or that
Merzbow
left the shop with a lot of (crappy) records of French folk music…
What is the main musical genre in your shop?
We do not favor any specific genre. We want to offer the most general and varied range of products that reflect all our musical tastes. Within the team, Mederic is into psyche and garage music, Julien likes adventurous and experimental music; Delphine has a penchant for feminine pop music and punk music.
What about you, what's your favourite music genre?
I don't have any single preference. I try to listen to a lot of different genres, it helps being open minded, it also helps when you have to give advice to customers. I don't want to reply: "well, I don't know that song" every time someone has a question in the shop. Therefore, I tend to listen to all kinds of music, from black metal to hip-hop, via Slav classical music and Japanese music. That said, I need to stop listening too much Japanese Music because it drives my colleague Mederic nuts here in the shop…
When did you start selling with CDandLP?
The shop started in 2004, at the beginning.
How did you get to know us?
When we started the on-line business, it seemed obvious to us that we had to join CDandLP and sell via your platform.
What is it that you like most about us?
The choice, the energy and the interactivity.
What was your very first vinyl record?
It was probably
La peur du loup
, the maxi single by the Civils (Vincent Ferniot's group). But maybe it was also the
Sacred Heart
by Dio. My memory fails me now.
According to you, which record within your inventory is the most bizarre, unusual?
We sell a compilation of
Chinese operetta extracts
, recorded in the beginning of the 20th century. Very unusual, completely loony but which deserves to be listened to.
Give us your 3 favorite titles in your inventory.
For the time being, I listen to the
III by IHAN
(a great avant-garde electronic saga published by 213 Records) as well as
Transhumance by LA BERGERIE
(some local brilliant jazzy hip-hop sound published by Specific Recordings) and the new album by the
Singe Blanc
(the white monkey), the most famous group in the town of Metz, available as of November 9th on our Label Les Disques de La Face Cachée.
What record gives you pride? What record would you never ever part with?
To me, the most precious records are the ones by the Japanese singer Sheena Ringo in 2009 to celebrate her 10 years of songs. The 15000 copies of her 4 albums were sold out in a couple of minutes, on the day they were published. It's become a nightmare to find them at a normal price. They have become collectors in addition to be brilliant albums. I will never part with them.
What's your 'guilty song', he song you love but wouldn't dare to confess...?
I have no guilty song; I accept my own choices and feel no guilt about listening to the freakiest song… Mederic can confirm it with – ahem – "great joy"?!… Otherwise, I'll be attending
Kylie Minogue
's concert in Luxembourg on November 6th.