Paska
from Czech Republic, tells us more about him and his shop.
Can you introduce yourself, is this your main activity?
Hello, I´m Pasi Mäkelä, I´m only member in my shop. So I do everything.
When did you start selling records?
About ten years ago, when I moved from Finland to Czech Republic. It seemed an interesting way to make some extra money and I wanted to get rid of part of my collection, that was how it started. Then I slowly discovered the local rarities in Czech Republic and for example some Cuban vinyls.
What is your musical background? your musical approach?
I´m a musician and a record collector, also a DJ sometimes.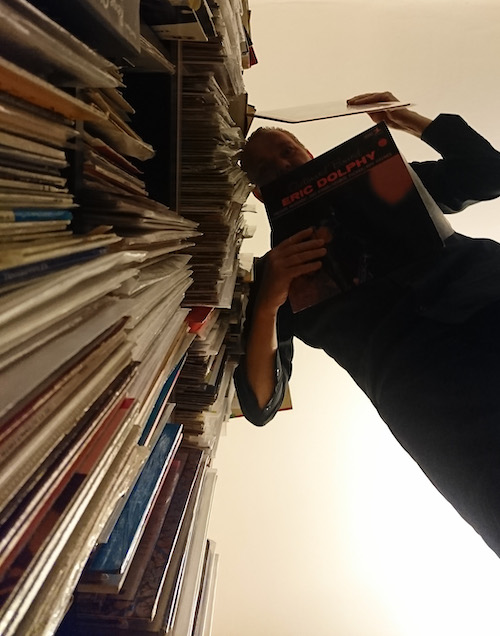 Give us a story as a seller:
One of the rare records I sold was a first pressing copy :
Carsten Meinert
´s To You - free jazz LP, with band members signatures dated 1969. It´s a great album for sure.
What is the main musical genre in your shop?
I started as a seller for obscurities and rare vinyl records, now it's probably more normalized, but some obscure angle stayed.
What about you, what's your favorite music genre?
Jazz, African and other world music, older psychedelic stuff, well, it´s hard to say as I like all kinds of music and I try to expand my taste. Actually, I used to be 'stuck' before the 80´s... So I´m now trying to move to modern times... As a DJ, I mostly do Latin vinyls from the 60´s and 70´s.
How did you get to know us?
Years ago, I was trying to find some Guinean Xyliphone vinyls (ok, they are pressed in France), and it was an impossible genre to find in Finland some 15 years ago. I found them on CdandLP, and it was relatively easy to deal and prices were alright.
What are the pros of our platform according to you?
Putting records for sale is quite easy, and customers see the actual pictures of the thing they are buying.
What was your very first vinyl record?
I think the first vinyl record that was actually mine was an album by The Doors that I bought myself in early teens. I think it was some German release, but I no longer have it.
According to you, which record within your inventory is the most bizarre, unusual?
Maybe the
Sounds Of Indy Nationals
-LP, has a pretty strange concept, to record passing race car sounds and distant announcements on a vinyl.
Give us your 3 favorite titles in your inventory.
-
Edgar Varese - Deserts
,
-
Lou Donaldson - Blues Walk
,
-
Ted Curson & Co - Ode To Booker Ervin
.
What record gives you pride ? What record would you never ever part with ?
- First pressing of
Tom Ze´s Estudando O Samba
will stay for sure. I love that album.
What's your 'guilty song' the song you love but wouldn't dare to confess… ?
- Probably some Finnish schlager or pop song I still don´t dare to say out public....