Searching for the gem that could complete your collection? This month's article is made for you!
Indeed, we're going to explain how to:
- create a quick, simple and efficient
"wish list"
if you are a buyer,
- access the
"wanted items"
lists and wisely put your items for sale if you are a seller.
How to access the « wanted items » pages?
The
"wanted items"
lists are available for all. Approximately 30 000 items are currently waiting to be found and bought. You'll access these lists via the
"wanted item"
link available on all our pages, on the left side of the page footer.
How to create your wish list?
No matter what kind of buyer you may be, your wish list is here to help.
To start a wish list, you must log into your account (or create an account if you are a new member).
You'll understand that we must link your research to your email address in order to contact you when our system has found the item you're looking for or once a seller has put the item for sale.
You'll access a filling form directly from your account by going to the following section: My Account > My Purchase History>
Wish list
.
There are several reasons to create a wish list.
- never miss an opportunity: we notify you when a seller puts the item for sale,
- no more time-consuming research: the information comes to you directly,
- no excess in purchase: you only receive the notifications under the maximum price you entered at the time you listed the item.
A wish list makes your life easier and give you more time to browse our website !
All wish lists remain confidential and the buyer's username is never displayed.
There are other ways to fill in your wish list:
- When the search engine cannot find any result,
- On each page footer, when results are not satisfactory,

For your wish list to be the most efficient, it is important to follow some simple rules:
- don't make typos when writing down the artist names and the albums titles,
- don't add any extra information (avoid any comment, superlatives),
- don't enter unreliable and eccentric prices that could baffle sellers.
If you fear nothing, you can even accept to receive offers from sellers who put the item for sale at a price higher than the one you entered at the time you listed your item!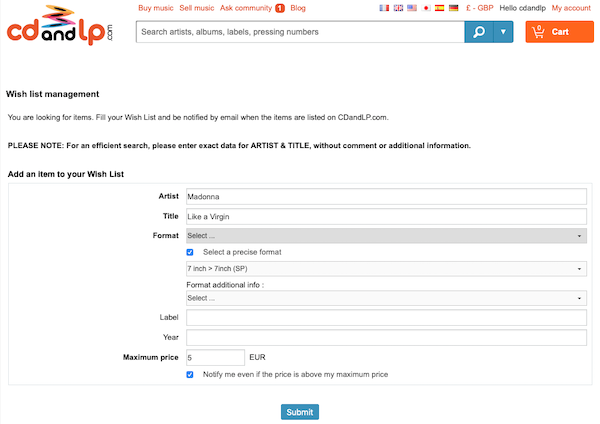 You are a seller: what are the pros?
Why would I need to look at the wanted items pages?
Find out in these pages the list of all the items our buyers are currently searching for.
You'll get an idea of what is in demand. Target inside the lists and sell quicker via these pages.
How does it work?
The search engine helps you select within the listings of
wanted items
. You can browse by artist, label, title, year or theme (for instance, Madonna, Eurovision, gold record…). By default, new lists come first on the page.
Separately, or in addition to the search engine, use the filters to browse items recently listed or sort them depending on what you have to sell.
If you list the item by clicking the grey
"sell"
button at the right of the line, the buyer will be automatically notified and informed about the listing of the item. The sale can go fast!

If you list without browsing the wanted items pages, no worries, buyers will also be notified about the items you have listed. Our system processes automated and regular searches.
That's it; you know everything that has to be known. We thought it was important that you learnt more about this precious tool. Indeed, during our encounters at record fairs, it seems that few of you knew about the
wish lists
and the way they work.
If you are a
buyer
and that you own one of the wanted items, it is very simple to sell it via the page. Remember we're here to assist you to
become a seller
!
Of course, feel free to contact us and give us your suggestions regarding this option.