Two friends, Xavier and Steven, both crazy about black music and vinyl records, used to travel around the world, taking time to visit local record dealers at every stage of their trip. A crazy idea – for the time - crossed their minds: why not creating a website where record dealers from all over the planet could put their gems for sale and propose them to collectors from the other side of the world? In only a few clicks?
In the beginning of the years 2000, when the internet was only in its infancy, the two friends challenged themselves to create a marketplace dedicated to music and its favorite format, needless to say the vinyl record.
Confident and motivated, they started going from one French fair to another, explaining their project to record dealers. Attentive to sellers' expectations, they listened to their queries. The business model of a 'go-between' sellers and buyers became self evident.
CDandLP saw the light in 2001, with the ambition of connecting record lovers and making their trades easier.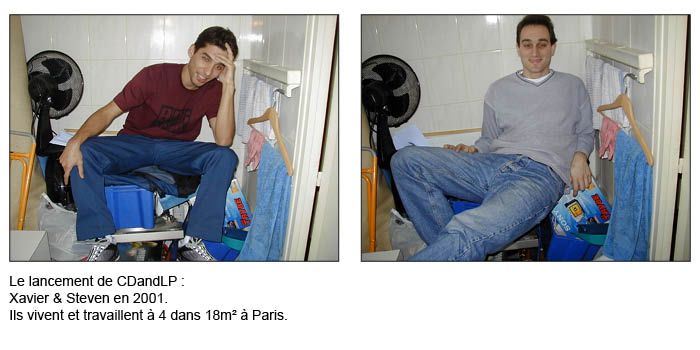 Collectors quickly got an interest for this new specialized website and by word of mouth CDandLP started to develop. Because of its international ambition, the website was, from the beginning, available in French and English. Later, in 2010, CDandLP would propose its Japanese, Spanish and German versions.
Originally located in Paris, the company moved to Saint Etienne in 2003 where it continued to evolve. Despite its anglophone-sounding name, let's remind everyone that CDandLP website is 100% French!!!
What was for some people a very restricted market started to appeal seeking collectors. They quickly understood the interest and the importance of a website dedicated to music. Our clients, buyers or sellers, trust the marketplace. They value the work of our commercial and technical team, they appreciate having available and attending representatives.
The site was quite basic at the beginning. The Internet had just started. The priority was the search engine.
The plane spreading vinyls all over the world remained many years on the home page.
CDandLP makeover happened in 2011, with a new logo and a new design. Orange and black still remains our colors.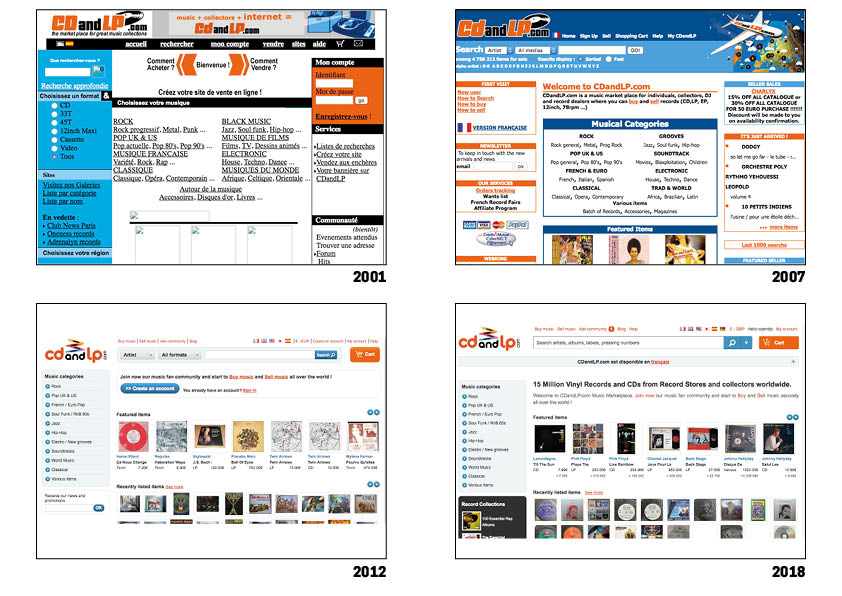 A trip to Tokyo was planned in 2010 to settle a local office there and to negotiate some long term partnerships.
When we hear about the vinyl revival, it makes us smile a little: we've never doubted that vinyl would stay alive forever. Of course vinyl IS the favorite media to listen to some good music and feel delicious vibes, who would think otherwise?
Our headquarters are still in Saint Etienne with a trustworthy and attending team.
Now you know a bite more about the story of CDandLP.
We'll tell you more soon about the team.